Lesbian porn stars: Molly Cavalli and Esmi Lee
Website: Molly's Life
Diary entry: Booty Break
Type: lesbian porn video gallery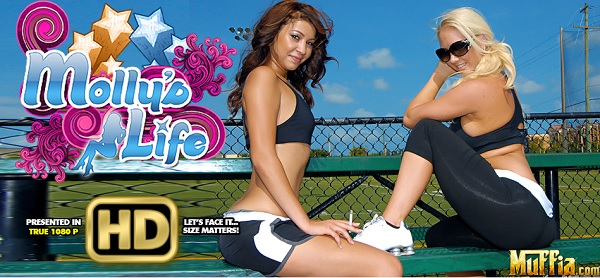 My trainer gave me some homework of sorts. He told me to run the bleachers at the park. Reluctantly, I went to fulfill my responsibility and sweat it out. What a hot day it was, it must have been like a hundred degrees outside. I had to take a break to cool down a bit and that is when I saw her. Sexy little chick Esmi Lee chilling in the shade after her own workout. She was all about it and after a few minutes, we end up going back home with her. Score! Started by making out on the couch and then progressed to undress each other. What a sweet pussy Esmi Lee has and she proved to be quite the carpet muncher too. I think I will be seeing Esmi Lee again soon…. at Muffia.